"Super, great, fine, always getting better!" This is my common response to both my personal health but also to the well-being of Saint George parish. I believe enthusiasm marks the general attitude of our community. Over the past few years, Saint George Church has experienced a revitalization of our ministries and our spiritual life. This is due in large part due to the commitment of our parishioners and staff who dedicate themselves to the improvement of parish life. I am delighted that you are visiting our new and vibrant website to inquire about our ministries and the life of our community. We value your gifts of time, talent, and treasure, and invite you to explore the abundance of ministries we have to offer. Our greatest hope is that you will find a home in our parish. Our parish priests and everyone who serves on our parish staff have one goal, and that is to serve you. Please feel welcome to contact us with any questions, concerns, or needs that you might have.
Our Rectory Office is open Monday through Friday from 9:00 – 1:00.
Once again, thank you for visiting Saint George Church online!
Father Brian
From Our Pastor
State of Our Parish Report
Fr. Brian Vossler, Pastor
November 2017 | Saint George Parish
5145 Peach Street, Erie, PA  16509
Each year, the parish is to submit to the Diocese an annual report.  The first part of this report is to give an account of the goals and plans that were achieved throughout the past year.  I would like to share with you some of these goals that have taken place since the middle of February when I arrived at St. George's as the new pastor.
It has been an ongoing effort to become familiar and to work with staff, parishioners and the general day to day operations of our parish.  This has been a very rewarding experience.  One of the first tasks was to sit down with many of our staff personnel and to learn more about their responsibilities.  Part of this collaborative process was to evaluate the effectiveness of each ministry and to seek improvement where it could be made.
With our permanent deacons, this resulted in the development of the preaching schedule, rotating our facilitation with RCIA and having assigned one area of responsibility, e.g., heading up the parish picnic.  With our youth minister, we were able to get him involved in doing retreats, not only in the school but with all the grades in Faith Formation.  This exposure has led to significant growth in our youth group.  Meetings with our ushers, money counters, lectors, Eucharistic ministers and altar servers has provided a clearer understanding as to the role that each person plays.  We also held our elections for our newest members on the Pastoral Council who advise the pastor on important parish matters.
In regards to finances, we are now able to save over $100,000.00 per year. We did this primarily with salaries.  By streamlining our operations, we were able to go from two parish secretaries to one.  We were also able to use volunteers instead of the paid assistant in our Faith Formation.  We began collecting rent monies from our two resident priests.  We now have greater restrictions on the use of our parish credit card.  We are also returning the annual appreciation reception to be hosted here at St. George's instead of going to the Erie Club.
With this kind of savings and the monies we raised with our annual Catholic Services Appeal, we have sealed, coated and painted our parking lots.  We now provide all of our parishioners access to the "FORMED" program (Catholic adult education version of Netflix online 24/7).  We have five 75" liturgical monitors in the church to enhance our liturgies with words for our announcements, songs, prayers, and readings.  These monitors can also provide powerpoint presentations and videos during or outside the context of the mass.
I have always been of the mindset and philosophy that if you take care of the spiritual needs of your people, the rest will follow.  We currently have two teams of 15 men and 15 women meeting every other week in preparation to host our spring "Welcome" retreats for fellow parishioners.
In addition to this, St. George promoted the "Take Me to Worship" event encouraging our families to practice their faith by attending Sunday Liturgies.   In celebration of our 100th year anniversary of our Lady of Fatima, St. George hosted two six weeks series on Mary.  Most recently, we have also provided different Bible studies named the "Great Adventure".  Our Lenten "Soup, Salad and Soul" drew in large crowds of people to hear our various speakers and to enjoy a Lenten meal.   And of course, all of our organizations within the parish continue to provide their services to enhance the spiritual welfare and benefit of our people.
As you can see, this is a very exciting time to be at St. George's parish.
I ask for your continued prayers and support as we face our bright future.
God bless, Fr. Brian
Join Our Parish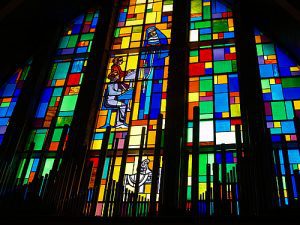 We WELCOME you! We are blessed that you are interested in joining our parish. Saint George has a long history of family-focused and community-centered ministry. To register please fill out our Parish Registration Form. This will be sent automatically to our Rectory Office. Once your information is received your information will be entered into our Parish Data System and you will be mailed a welcome letter from Father Brain.
Please feel free to read our Welcome to Saint George Church packet for an overview of all of our programs and ministries. Our hope is that you will find something of interest and join us!