In addition to the generous support provided through our annual fund, Saint George Church is blessed and grateful to be the benefactor of charitable gifts from estates and trusts by our people in mission, foundations, and corporations, made in one of the following programs.
The Monsignor Franklin Foundation Endowment Fund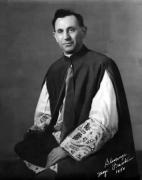 Monsignor Franklin was assigned to Saint George Church in 1942 as resident Pastor. He brought innovative ideas and a vision of intellectual growth founded in faith to a growing Saint George Community. During his term, he initiated the groundbreaking for Saint George School as well as the formation of one of the first churches to be constructed in a modern style accommodating more that 1,000 worshipers. He was a dedicated and charismatic priest with immeasurable talents. Monsignor Franklin's time and talents are treasured by all those associated with Saint George. He is truly our model of commitment and the very reason why the mission of Saint George is still alive.
In honor of Monsignor Franklin, Saint George has established the Monsignor Franklin Foundation Endowment Fund, its highest level of giving. Endowment Funds ensure that Saint George's future as an institution of the highest quality continues. The fund's interest earnings are being reinvested to build the fund balance. Contributions to the fund are received from parish members through their church envelopes.
To become a member of the Monsignor Franklin Foundation Society by including Saint George Church in your estate plans, please contact the Rectory Office at 814-864-0622 or email Krista Jeffreys at Saint George Church by clicking here.