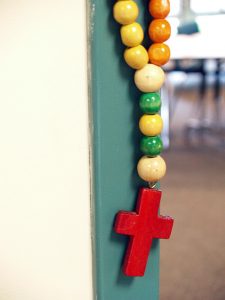 The Order of Christian Initiation for Adults (OCIA) program is a process by which the unbaptized and persons of other faith backgrounds are prepared for full communion in the Roman Catholic Church.
The OCIA process involves the study of the Gospels to learn Catholic teachings in order to realize the acceptance of Christian values and morality while developing a meaningful prayer life.
The main goal of Saint George Church is to serve you and help you become closer to God through worship and prayer. Our parish also offers the Order of Christian Initiation for Children (OCIC) program.
"Ask and it will be given to you;
seek and you will find;
knock and the door will be open to you."
(Matthew 7: 7)